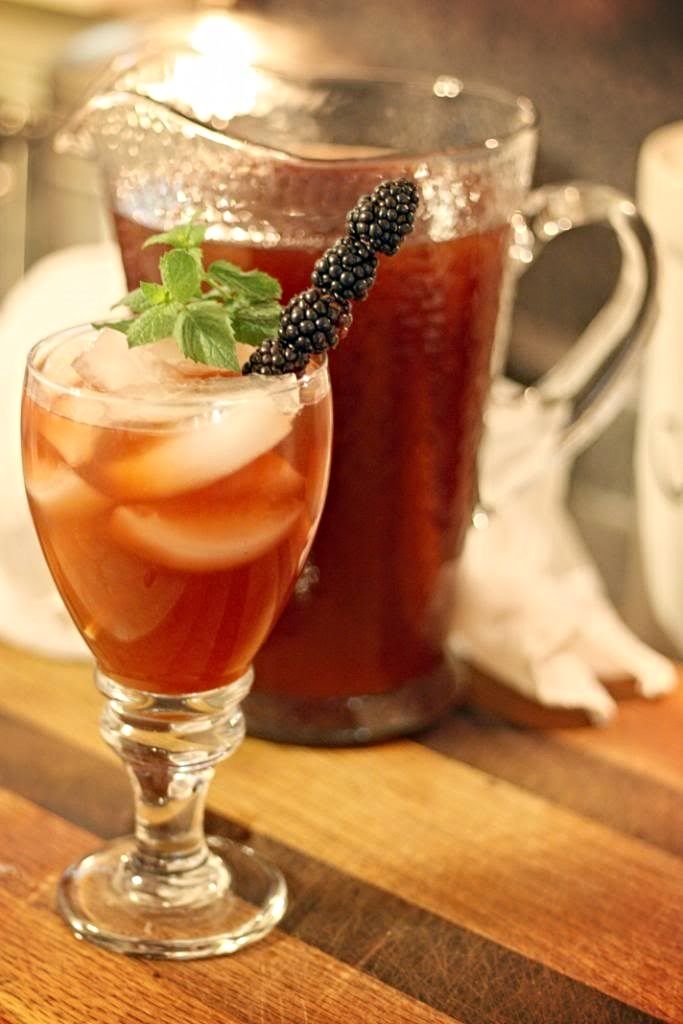 I grew up on sweet tea, literally. My mom says she remembers putting it my mine and my sister's bottles when we were fussy, and wouldn't you know it we grew up just fine. Sweet tea is a staple in my home today and while I didn't bottle-feed it to my kids, I introduced it to them as soon as I could and they've loved it ever since.
Like most folks here in Texas, you typically you wouldn't find me messing with a good thing, but tis the season, blackberry season! Several years ago we had a bumper crop of huge, quarter size blackberries and this recipe came out of the overflow of that harvest.
There is an art to good sweet tea; it's a lesson I learned from my grandmother and my husband's grandmother. One eye-opening lesson was never (and I mean never) use teabags. Only use loose tea leaves. Both of these ladies used Lipton loose tea and that's exactly what I use. Second, but not far behind is sweetening. For a 1-gallon pitcher, use 1 ½ cups granulated sugar. The sugar is dissolved in the pot while the water is heating, before the tea leaves are added. Lastly is the steeping process. Removing the boiling water from direct heat, then stirring in the tea leaves, covering the pot with a tight fitting lid and allowing it to steep for no more than 5 minutes will allow the tea to concentrate. Don't allow the tea to go past steeping for 5 minutes or it will become bitter.
For blackberry tea we reduce the amount of sugar because we'll be using homemade blackberry syrup that is heavily sweetened.
Blackberry syrup is a delicious addition to lemonade as well. You can also serve this syrup over pancakes, waffles or vanilla ice cream.
Ingredients
Blackberry Syrup:
4 cups fresh or frozen blackberries
3 cups sugar
2 cups water
juice of 1/2 a lemon
Blackberry Sweet Tea:
3 heaping tablespoons loose tea leaves
1/2 c. sugar
2 c. blackberry syrup
½ gallon cold water
fine wire mesh sieve
paper towels or coffee filters
Instructions
Bring berries, sugar, and water to a boil in a heavy saucepan over medium-high heat, stirring until sugar is dissolved.
For the syrup:
Reduce heat and simmer, uncovered, stirring occasionally, until fruit is soft, about 30 minutes. Cover and let steep for 30 minutes.
Pour mixture through a fine-mesh sieve into a bowl, pressing gently on and then discarding solids.
Refrigerate up to 3 days or freeze up to 8 months.
Blackberry Sweet Tea:
In a large pot, bring half a gallon of water and ½ cup sugar to a boil. Once bubbling, remove from heat immediately, add the tea leaves, and stir for about 30 seconds. Cover with a tight fitting lit and steep for exactly 5 minutes.
Meanwhile, fill the pitcher ¾ full with ice cubes. Place the sieve over the pitcher's opening and place a clean paper towel or coffee filter into the sieve. Immediately after steeping for 5 minutes, pour the brewed tea through the lined sieve. Discard the leaves and stir in the blackberry syrup to combine. Serve in a tall glass filled with ice. Garnish with skewered blackberries.
http://jennifercooks.com/blackberry-sweet-tea/