I know it may seem a little weird to be featuring Key Lime anything during this time of year, when our minds are set on warm and gooey or spice-filled treats for the holidays, but I can assure you that this Key Lime Cheesecake will be a big hit with your guests this holiday season or any time of year!
First, toast whole almonds in a 350 degree oven for 5 to 8 minutes. Let cool.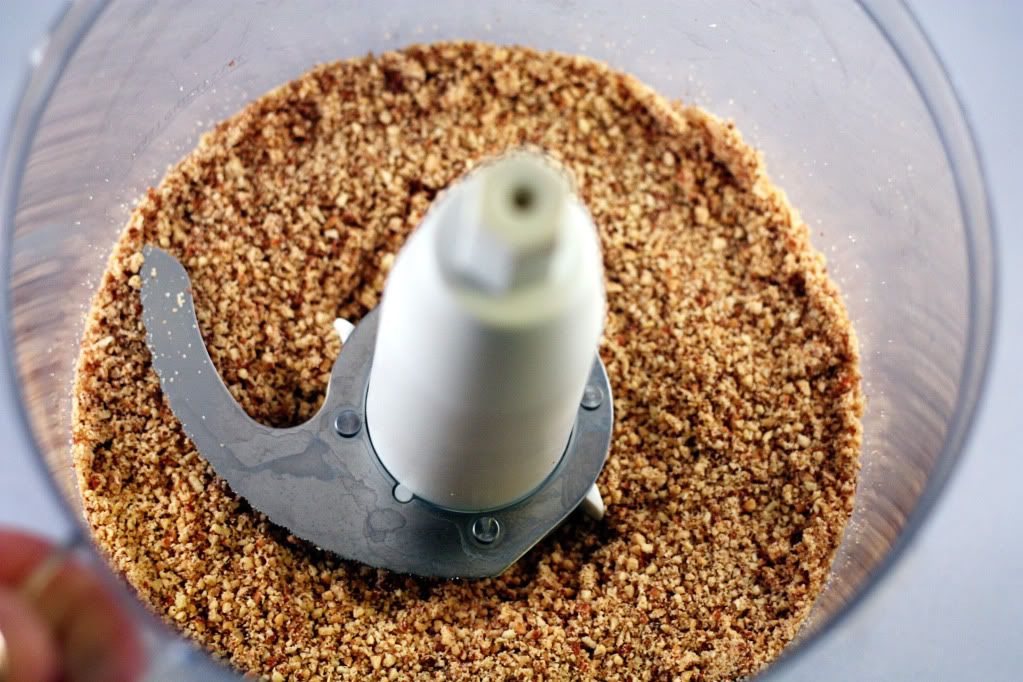 Next place toasted, cooled almonds in the food processor and chop until finely chopped, but not powdery.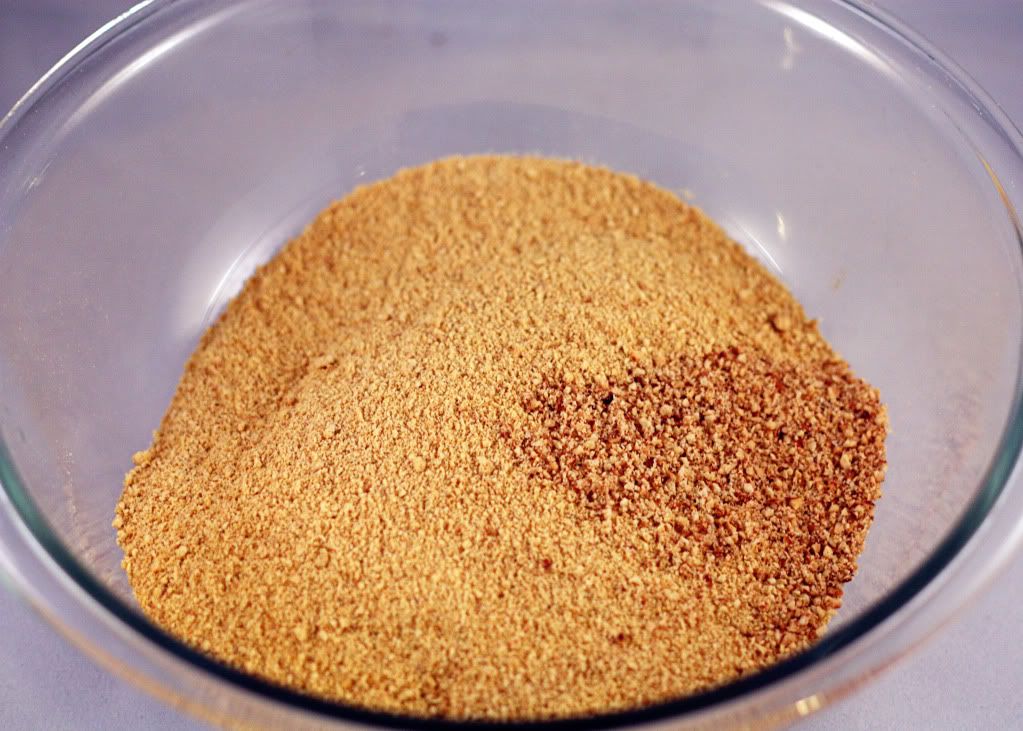 Combine graham cracker crumbs, chopped almonds, melted butter and sugar; combine with a fork until crumbly.
Now, take the butter wrapper and greased the inside-sides of the springform pan.
Take some leftover dry graham crumbs and coat the sides of the pan to prevent the cheesecake from sticking to the sides.
Here's the finished coated pan.
Finally, pour graham crumb and almond mixture into the pan and press firmly to the bottom and part way up the sides.
Zest those limes and squeeze the last drop of juice out of each and every one. (I recommend a lemon / lime squeezer thingy)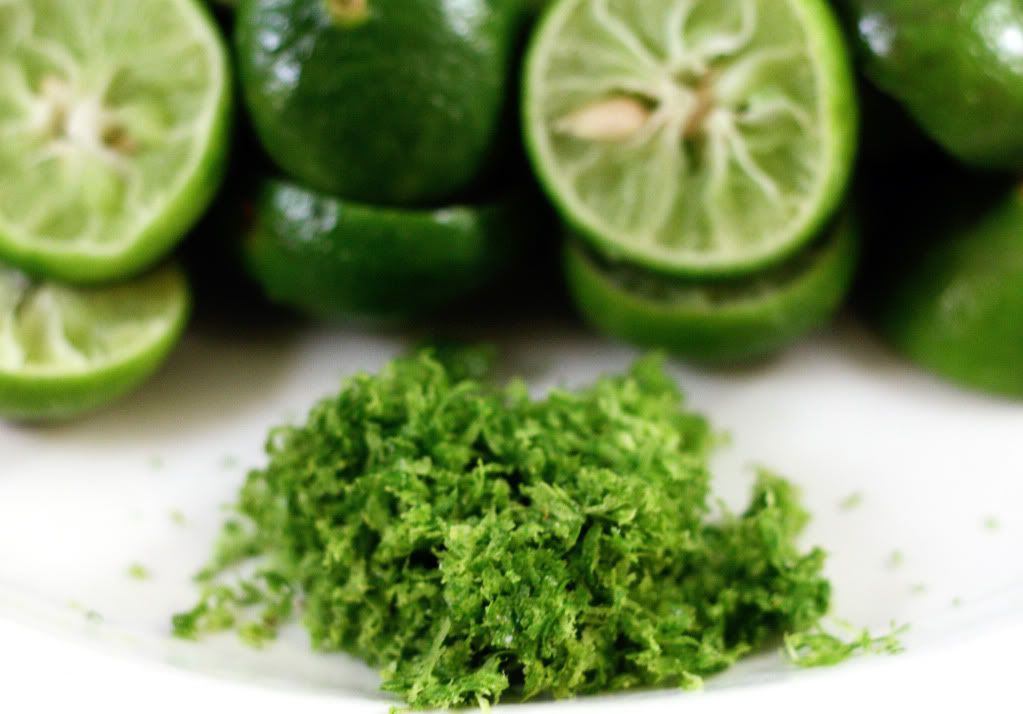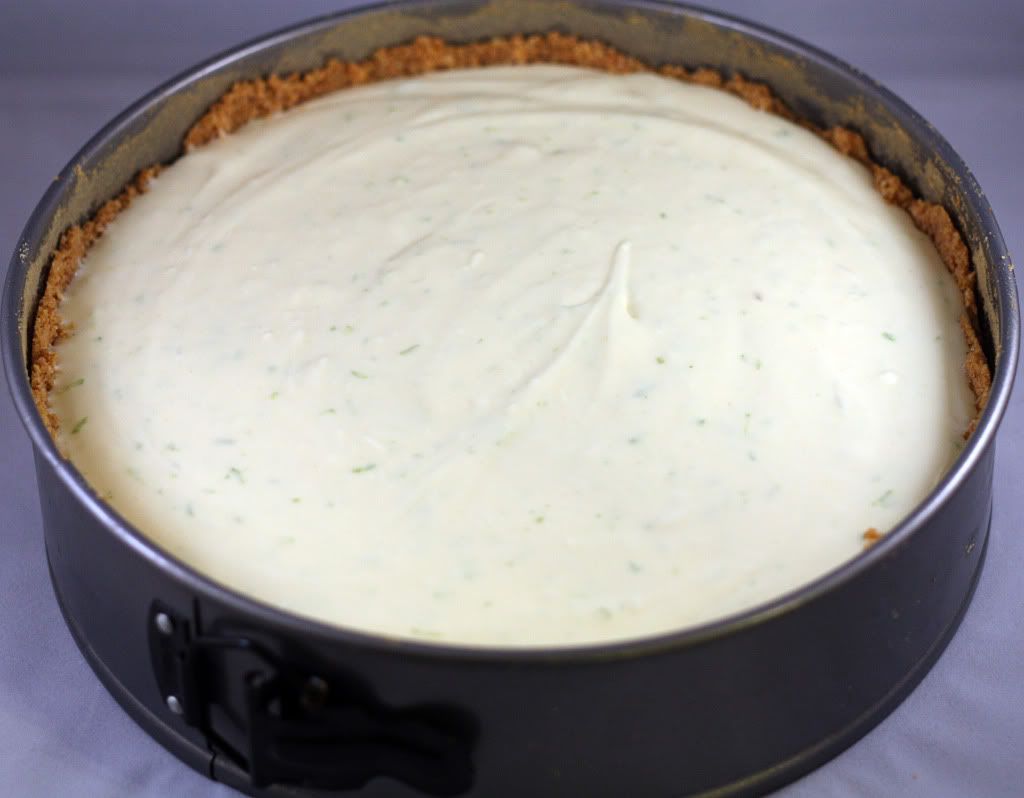 Prepare your filling ingredients…don't forget the zest! It adds so much more flavor. Pour prepared filling into crust and bake as directed below…
Key Lime Cheesecake

Crust:
2 cups graham cracker crumbs
½ cup toasted almonds, ground
1 teaspoon salt
1 ½ sticks butter, melted
½ cup sugar

Filling:
1 ½ cups sugar
1 can Eagle Brand Milk
4 tablespoons flour
2 tablespoons lime zest
5 (8 ounce) pkgs. cream cheese, softened
1 teaspoon vanilla
1 cup fresh lime juice (about 25 Key limes)
3 eggs
2 egg yolks

Whipping Cream: For Garnish
2 cups cold heavy whipping cream
6 T confectioner's sugar
2 heaping T marshmallow cream
1 t vanilla extract

Crust:

Preheat the oven to 400 degrees F. Make the crust by combining the graham cracker crumbs with the butter and ½ cup sugar in a medium bowl. Stir well enough to coat all of the crumbs with the butter. Keep it crumbly. Press the crumbs onto the bottom and about one half of the way up the sides of an 8-inch spring form pan. You don't want the crust to form all the way up the back of each slice of cheesecake. Bake the crust for 5 minutes, then set it aside until you are ready to fill it.

Filling:

In a large mixing bowl combine the cream cheese, sugar, and vanilla. Mix with an electric mixer until smooth. Add the Eagle Brand milk, lime juice lime zest, flour and eggs and continue to beat until smooth and creamy.

Pour the filling into the pan. Bake for 20 minutes at 400 degrees. Drop the temperature to 250 degrees and add a pan of boiling water on the rack underneath the cheesecake; continue baking for an additional hour or until the center is set. Remove from the oven and allow it to cool.

When the cheesecake has come to room temperature, put it into the freezer. The cheesecake is best when it has been allowed to chill overnight. Remove cheesecake from freezer and allow to sit 10 minutes. Carefully removes sides and bottom of pan and place cheesecake on serving platter. Run a sharp knife under hot water, dry with a clean towel and make 16 uniform slices, rinsing the knife under hot water and drying it between each slice. Top each piece with sweetened whipped cream and sprinkle with additional lime zest, if desired.

Whipping Cream:

Place bowl of electric mixer along with wire whip in the freezer to chill while you are gathering other ingredients. Combine all ingredients in chilled bowl and whip on medium-high speed until desired consistency is reached. I like to beat mine just until stiff peaks form so that I can pipe it out of a pastry bag.

*I learned a trick to stabilize fresh whipped cream while working at a restaurant. The chef there shared with me that incorporating some marshmallow cream into the recipe will keep it from separating while stored in the refrigerator or atop a dessert. I have used this trick successfully ever since!