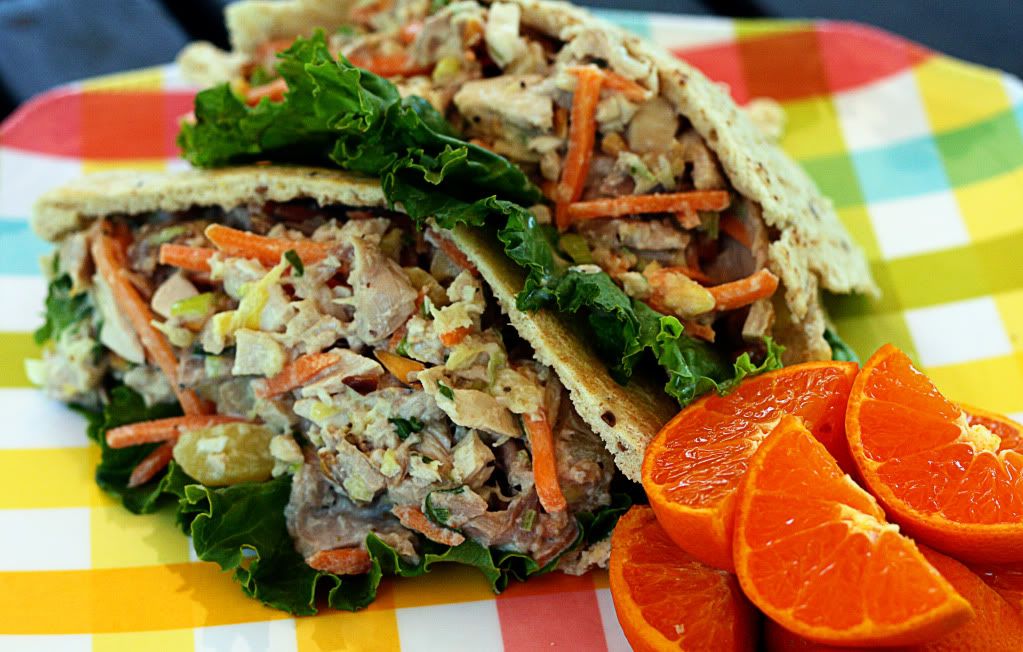 Chicken salad is a great sandwich spread to have on hand for a quick lunch. I know that when I'm really hungry it's hard for me to have self control, so having something already whipped up is great for those times.
If you like your chicken salad on the sweet side, you'll love this one. It's also really pleasing to the eye with all the bright colors. If you're looking for a savory one, try the Rosemary Chicken Salad that I posted the other day.
Pineapple Chicken Salad Pitas
Adapted from Cooking Light
Serves 4 (serving size: 2/3 C w/ Whole Wheat Pita)
Calories: 416 ▪ Fat: 15g ▪ Carbs: 41g ▪ Dietary Fiber: 11g ▪ Sugars: 9g ▪ Protein: 30g
Calories: 293 ▪ Fat: 11g ▪ Carbs: 17g ▪ Dietary Fiber: 2g ▪ Sugars: 12g ▪ Protein: 30g
2 1/2 cups chopped cooked chicken breast (about 1 pound)
1 cup matchstick-cut carrots
1/4 cup sliced almonds, toasted
1/4 cup finely chopped green onions
1 tablespoon Worcestershire sauce
1/2 teaspoon garlic powder
1/4 teaspoon black pepper
1 (8-ounce) can crushed pineapple in juice, drained well
4 (6-inch) whole wheat pitas, each cut in half
Combine first 11 ingredients in a large bowl, stirring well. Line each pita half with 1 lettuce leaf; fill each half with 1/3 cup chicken mixture.