There are so many simple little down home recipes out there that I just love, and sometimes I like to play around with them to give them a special twist. That's what I did here with my Orange Monkey Muffins. To the original cinnamon and sugar mixture, I added a generous amount of orange zest, and to the icing I added fresh orange juice and triple sec for a super citrus-y punch. It's very important that you grease your cupcake tin very well because these little boogers can be sticky! Enjoy!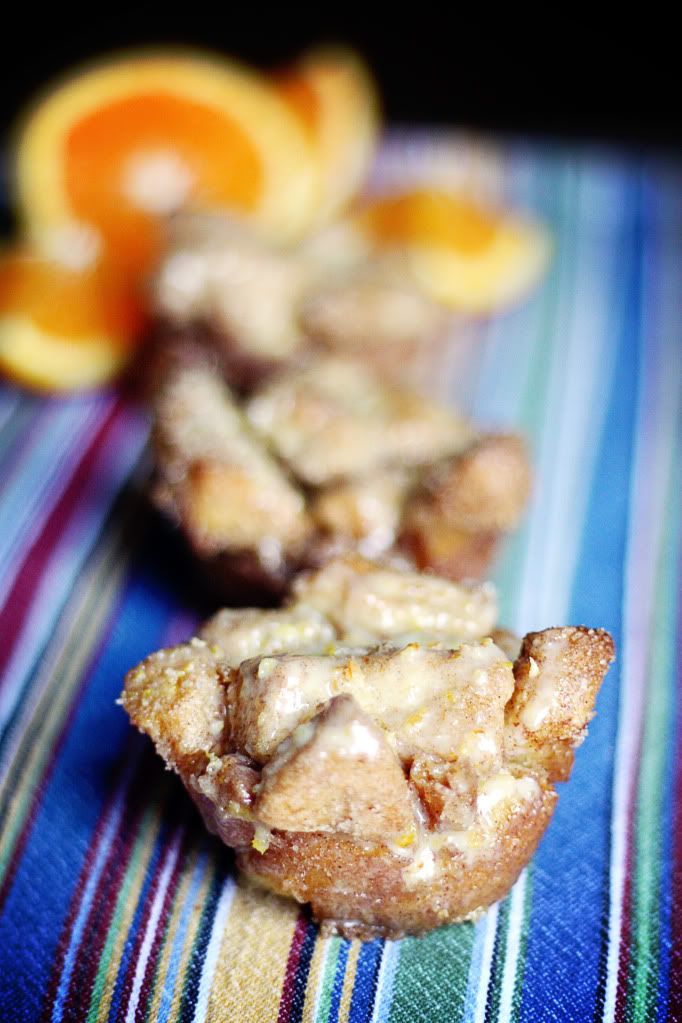 Orange Monkey Muffins
3 cans refrigerated biscuits
1 cup sugar
1 T cinnamon
1 T orange zest
1 stick butter, sliced into pats
1 cup powdered sugar
2 T fresh squeezed orange juice
1 T triple sec
Preheat oven to 350 degrees.
Generously grease cupcake tins with cooking spray.
Cut biscuits into quarters; set aside. In a large Ziploc bag, combine sugar, cinnamon and orange zest, mix to thoroughly combine. Place quartered biscuits in bag and seal shut. Shake biscuit pieces until all are well coated.
Place 6 to 8 sugared pieces into greased cupcake tins. Next, place 1 pat of butter on each cup of biscuit pieces and top with 1 tablespoon of leftover sugar mixture.
Place muffins in preheated oven and bake for 15 to 20 minutes.
Meanwhile, in a separate bowl, mix together powdered sugar, orange juice and triple sec. If icing is too thick, add more orange juice until desired consistency is reached.
Allow muffins to cool for about 5 to 10 minutes, then run a knife around each tin and gently lift out and onto a cooling rack that has been placed over a baking sheet. Generously drizzle each muffin with orange icing and allow icing to dry.