The other night when I had Raymond and Amanda over, these steamed dumplings were our starter. I could have eaten the whole batch all by myself! They went great with the Chicken Pad Thai! Mmmm…mmmm…good!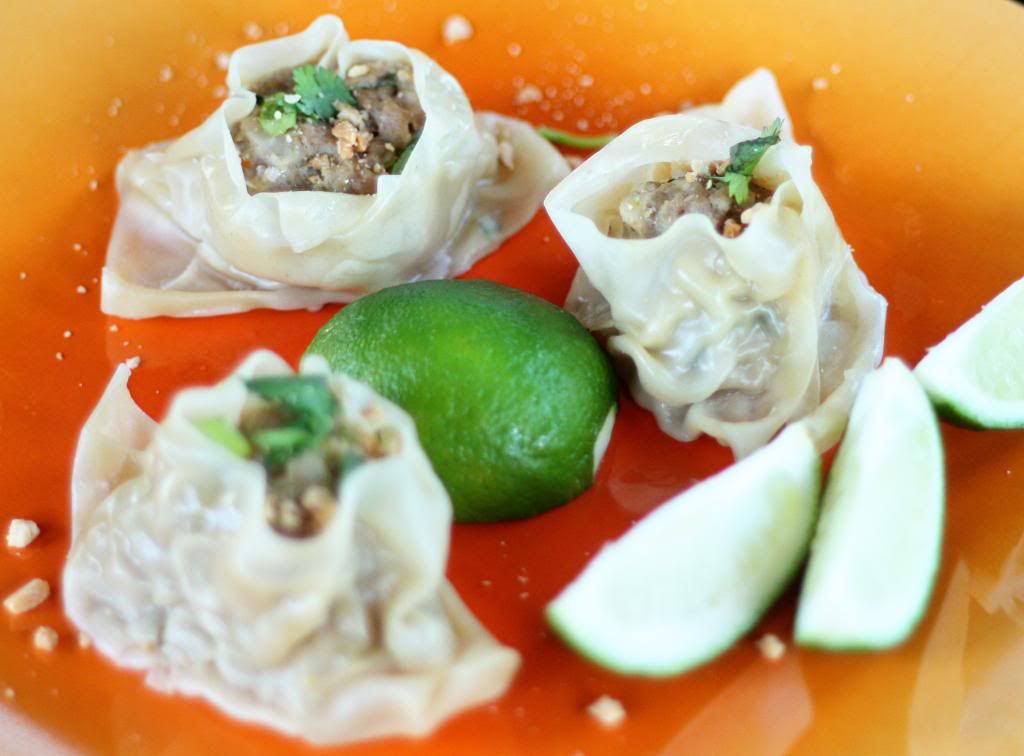 Steamed Thai Dumplings (Kanom Jeeb)
30 circular or square wonton wrappers, each about 3 ½ inches across
Filling:
1 cup raw ground pork (see vegetarian options below)
1 can tiny shrimp, drained
2 cans white flake crab meat, drained
1/4 cup chopped fresh cilantro
3 cloves fresh garlic, peeled and chopped fine
3 green onions, finely chopped
1 small can water chestnuts, drained, finely chopped
1 tablespoon cornstarch
1 egg, lightly beaten
1 tablespoon sugar
1 T Asian fish sauce
1. Combine all filling ingredients in a medium bowl; mix well.
2. Working with one wrapper at a time, wet edges all the way around wrapper.
3. Place about 1 tablespoon of filling in the center of one wrapper. Draw all the edges straight up and lightly crimp in a crown shape around top.
4. Lightly tamp or press the dumpling on a flat surface to flatten the bottom of the dumpling so that it can stand upright.
5. To cook dumplings, use a double level aluminum steamer that fits into a larger saucepan and has a tight fitting lid. Spray steamer with cooking spray to prevent sticking during steaming.
6. Put just enough water in steamer bottom to work with, being careful not to flood the steamer basket with water. You don't want your dumplings floating in water.
7. Steam the dumplings on high heat for about 10-15 minutes.
Pan frying/steaming alternative (This is my favorite way!)
1. In a heavy skillet, add about 1/4 cup cooking oil and heat over medium-high heat.
2. Carefully and quickly place enough dumplings to fill bottom of pan and brown on the bottom only for a few minutes; do not burn.
3. After the dumplings have browned, add enough water to cover the bottom of the pan with about a quarter inch of water and cover tightly to steam cook
the insides of the dumplings. When the water is absorbed and steamed away, the steaming sound will stop and sizzling will return, usually 10 to 15 minutes, depending on how hot your stove is.
4. Test one dumpling to make sure it's done. Add more water and steam longer, if need be.
Spicy Peanut Sauce
1/2 cup peanut butter (natural, no sugar added kind)
2 T soy sauce
2 T brown sugar
2 Tablespoon lime juice or Rice Wine Vinegar
1/4 cup coconut milk
1/4 cup water
1 T Sriracha Hot Sauce
2 cloves crushed garlic
2 T fish sauce
1 t. fresh grated ginger
Combine all ingredients in a small saucepan and heat over medium heat until sauce begins to bubble and thicken. When sauce has reached desired consistency, remove from heat. Serve hot or cold.