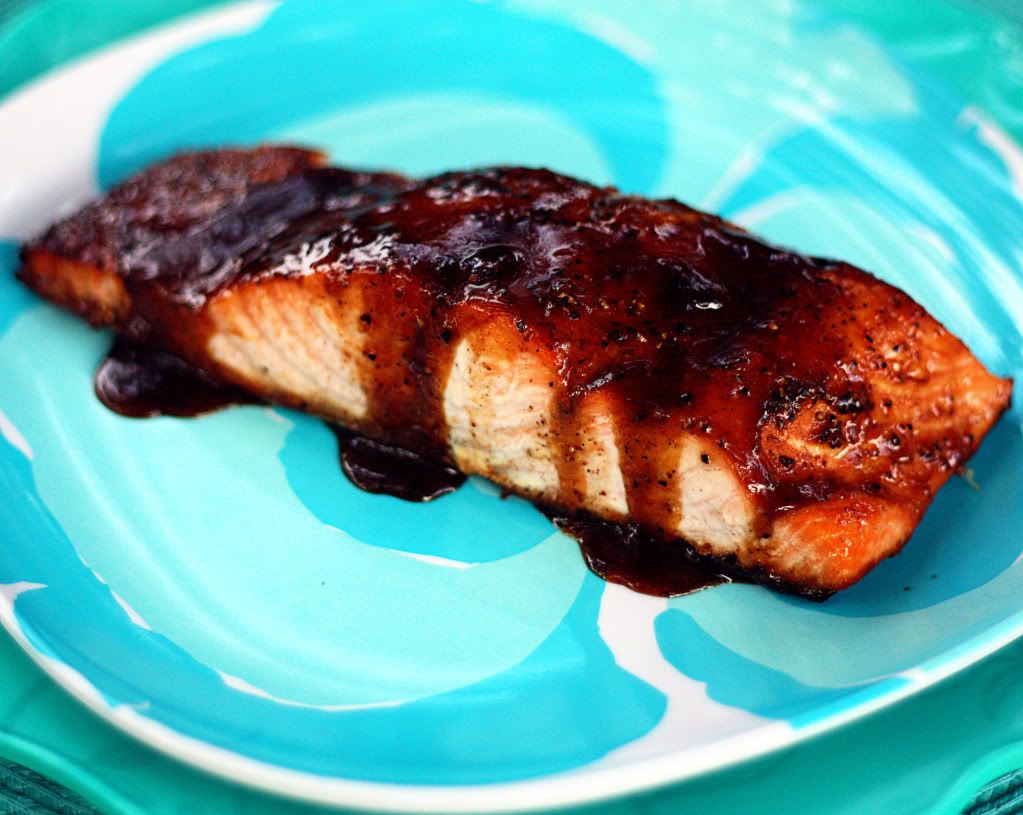 Trying to get more fish into your diet?
I'm always trying to find new recipes for different healthy fish dishes to add some variety to the same 'ole recipes that I usually use. After making this Maple Glazed Salmon, I couldn't wait to write about it!
My family absolutely devoured it and were asking for more. I had to restrain myself from seconds…it was that good. It's going to be one of our regulars!
First off, it's roasted in the oven under the broiler and only takes a whopping 10 minutes, start to finish! It has a deliciously sweet, light maple glaze that works with just about any side. We ate it with regular baked potatoes and roasted Brussels Sprouts. I think next time I'll bake up some sweet potatoes. I think the sweetness of the potato will be a great compliment to the glaze.
Try it and let me know what you think.
Plus…give me a shout out for your favorite fish recipe! I'd love to try it out!
Adapted from Cooking Light Superfast Suppers
4 Servings (serving size: 1 fillet)
Calories: 320 ▪ Fat: 14g ▪ Carbs: 11g ▪ Dietary Fiber: 0g ▪ Protein: 37g
2 tablespoon maple syrup
2 tablespoon hoisin sauce
1 teaspoon Dijon mustard
¼ teaspoon cayenne pepper
1/2 teaspoon coarsely ground black pepper
4 (6-ounce) salmon fillets (about 1 inch thick)
Cooking spray
Preheat broiler.
In a small bowl, combine the first 5 ingredients; stir well.
Place salmon, skin side down, on a baking sheet coated with cooking spray. Brush the tops of each filet with maple mixture.
Broil 10 to 12 minutes or until fish flakes easily when tested with a fork, brushing with maple mixture after 5 minutes and again after 10 minutes.