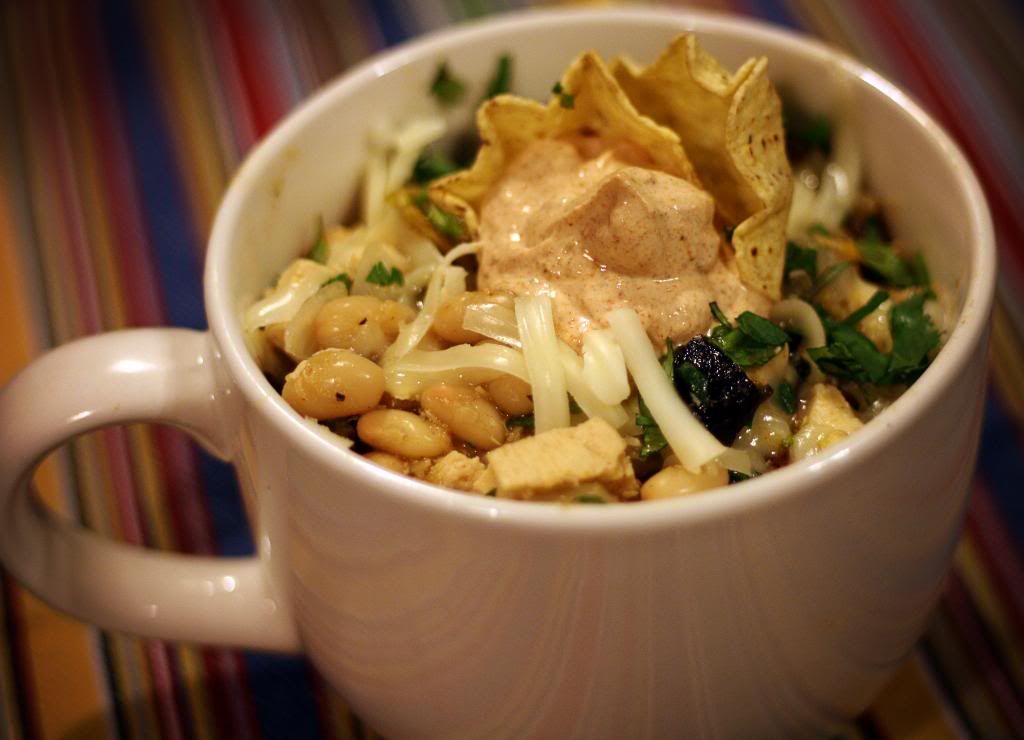 Well, I promise, I haven't been hiding! I have been out of town over the past 10 days visiting my mother-in-law in Missouri. We had a great trip, but I'm glad to be back in the swing of things again!
While we were in Missouri, we visited Baker Creek Heirloom Seed Co. and toured the Bakersville "Pioneer Town" in Mansfield, Missouri. It was awesome! We were able to see the seed farm, packing area, and a lot of historical craftsmen, and were thoroughly entertained by the different bluegrass bands! I'll be posting about it in more detail later. The reason I'm telling you this is because we bought some fresh poblano and ancho chiles and had them fire roasted. We went home and cooked up a delicious pot of white chili and later made stuffed poblano peppers.
I haven't made much white chili in the past, I guess because it just didn't look that appetizing! It isn't a very attractive dish, but after making it and slurping up several bowls, I can assure you that it's fantastic!
First, you have to roast and blister your peppers and onions. I think it tastes best if you can do this over a wood fire, charcoal or at least a gas grill, but sometimes that's just not available, or in my case, tonight, the weather didn't cooperate and poured on us. In that case, you can do this in the oven right under your broiler.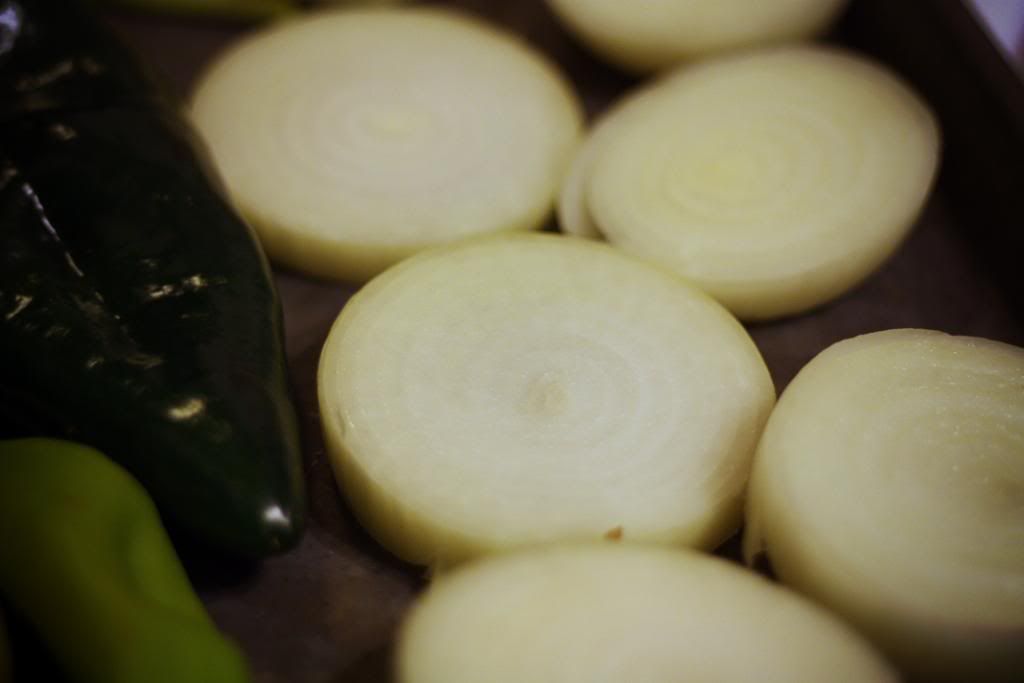 First, place your peppers, whole onto a baking sheet. Next, peel whole onions and slice them crosswise into 3 or 4 thick slices and place on sheet. Drizzle with a little olive oil or other cooking oil and place under the broiler with the oven rack raised to the highest level.
Depending on how hot your oven gets, this may take anywhere from 5 to 8 minutes per side. Once one side is blackened and blistered, turn over peppers and onions and do the same on the other side.
Remove peppers and onions from the oven and set onions aside to cool. Meanwhile, lay peppers on a large piece of plastic wrap and wrap loosely. Allow peppers to sweat and cool. Remove plastic wrap and rub off charred outer skin. (This doesn't have to be perfect, just remove most of it.)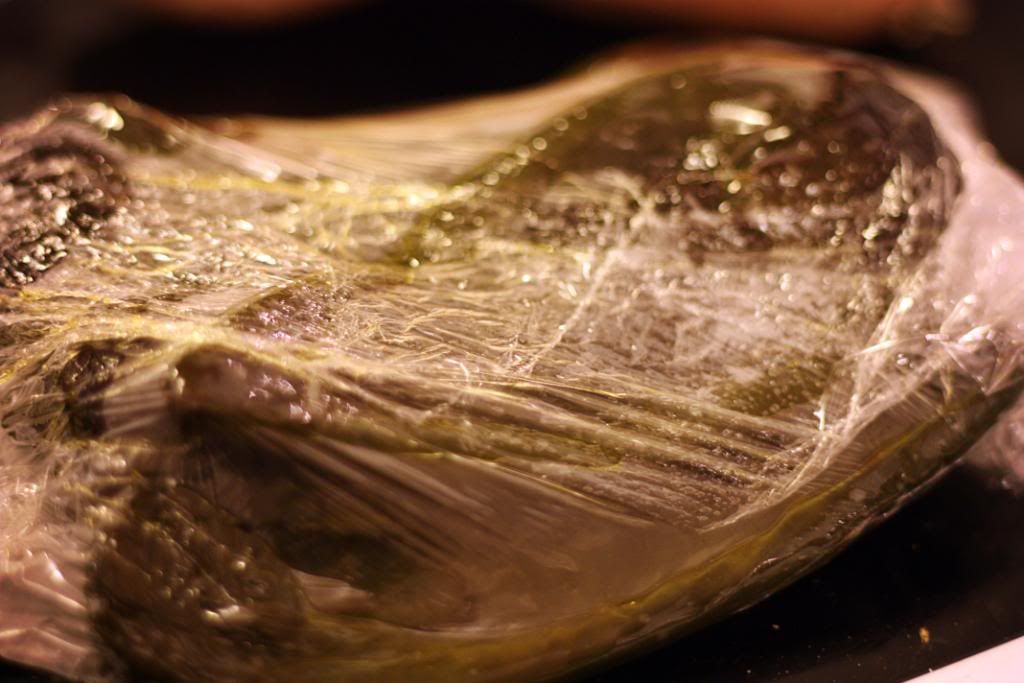 This recipe has several steps, but is very easy and worth the extra trouble! The roasted peppers and onions are a must!
4 poblano peppers, roasted, peeled & chopped
3 large yellow onions, peeled & cut crosswise
3 Tablespoons Taco Seasoning, divided
6 boneless, skinless chicken breasts, diced
2 fresh jalapeno peppers, roasted & chopped, optional
4 (15.5 oz) cans white beans such as cannelini or baby navy, drained
1/2 cup chopped fresh cilantro leaves
8 oz. sour cream, for serving
8 oz. Monterey jack cheese, grated, for serving
1 bag tortilla chips, for serving
Roast onions, poblano and jalapeno peppers as directed above. When cool, peel and chop and set aside.
In a large Dutch oven, heat 2 tablespoons oil and saute diced chicken breasts until lightly browned and cooked through. Add peppers, onions and garlic and saute until fragrant. Remove chicken and peppers to a plate and immediately stir in chicken broth and lime juice. Scrape the bottom of the pan to deglaze. Add 2 cans of drained beans and puree with a stick blender to give the chili some thickness.
Add back chicken mixture and remaining 2 cans of beans and cook over medium heat, stirring occasionally. Add cumin, 2 tablespoons taco seasoning and adjust seasoning with salt and pepper, to taste. Cook on low for an additional 30 minutes, stirring occasionally.
While chili is warming, stir together sour cream and 1 tablespoon taco seasoning; set aside for serving.
To serve, place tortilla chips in a bowl, top with chili, cheese and spicy taco sour cream.