I was at my parents house last week and had a major sweet tooth. I was dreaming of something warm, dark and chocolaty, so I headed to the store on a mission to make Symphony Brownies.
If you haven't ever had one of these amazing brownies, stop what you're doing, jot down the ingredients and head to the store! You'll thank me later!!!
I always make a large batch of these when I bake them, so you can cut this recipe in half, if you would like.
Start off mixing 2 Betty Crocker Fudge Brownies mixes (family size) by the directions on the box.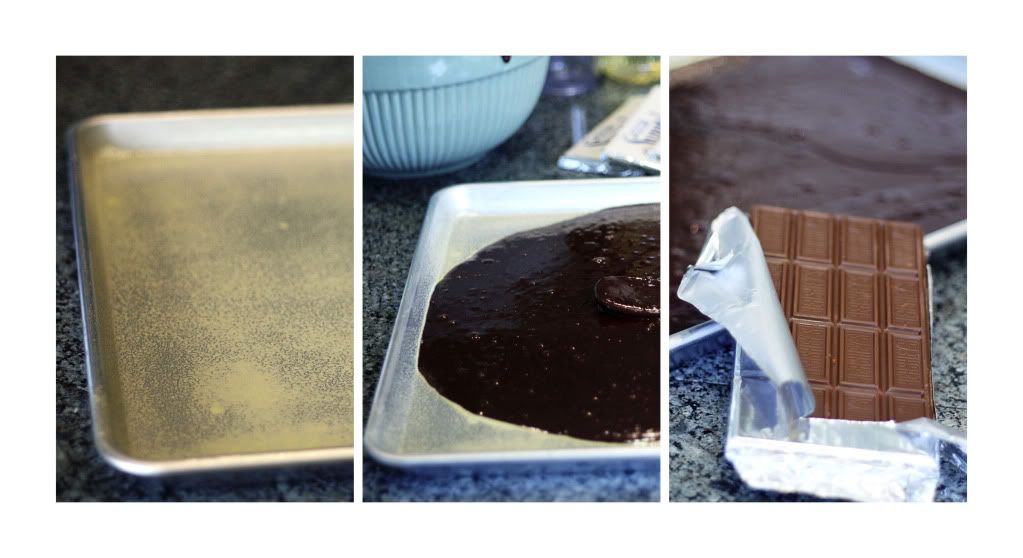 Spray a jellyroll pan with cooking spray and spread half of the batter on the bottom. Next unwrap the chocolate goodness and break the pieces apart.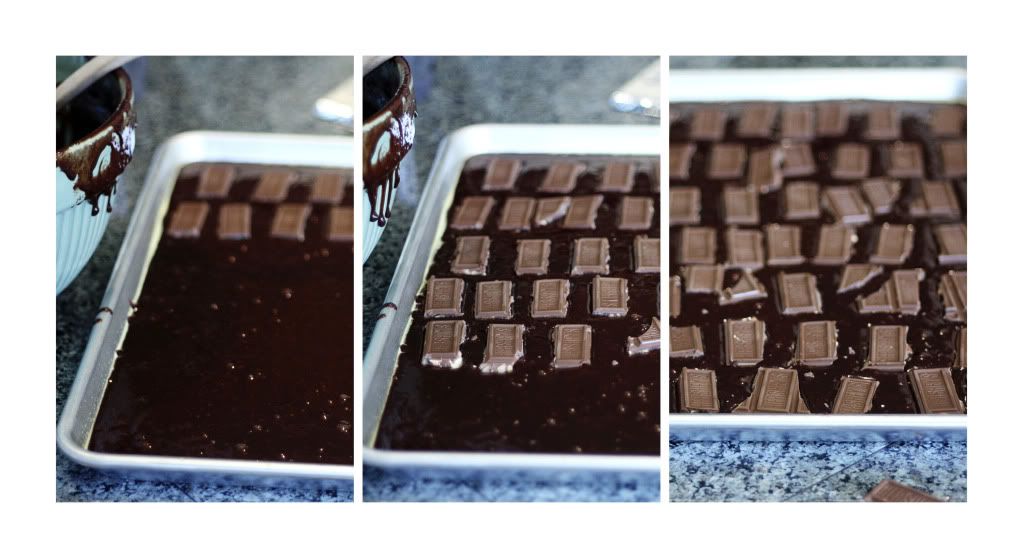 I like to break apart the chocolate to make sure that every brownie has some of the chocolate bar in it. You can lay the bars in whole, if you want.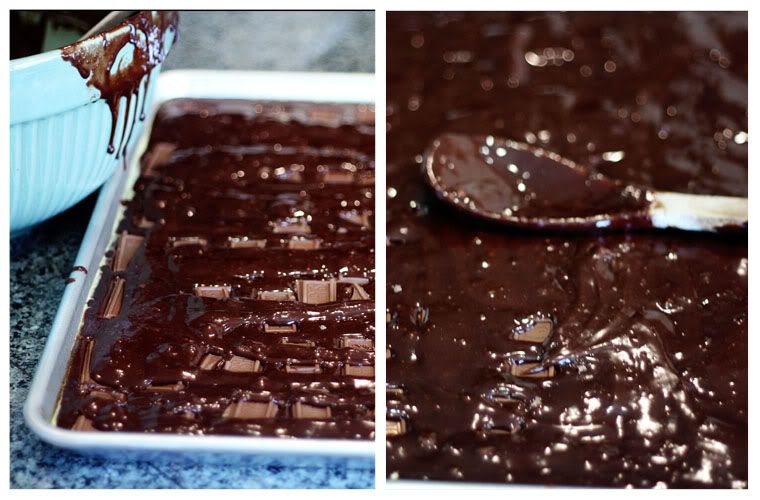 Now, pour the remaining batter over the top of the chocolate and spread it evenly with a spoon to cover all of the chocolate.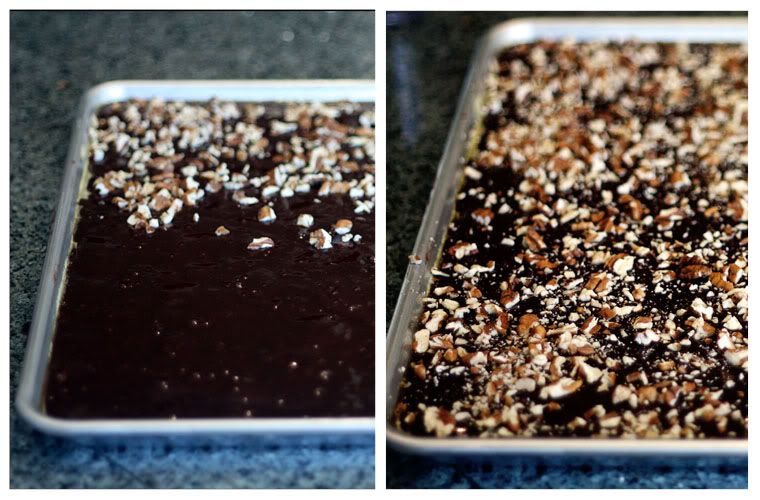 Next, since my family likes nuts in their brownies, I sprinkle the top with chopped pecans or chopped almonds.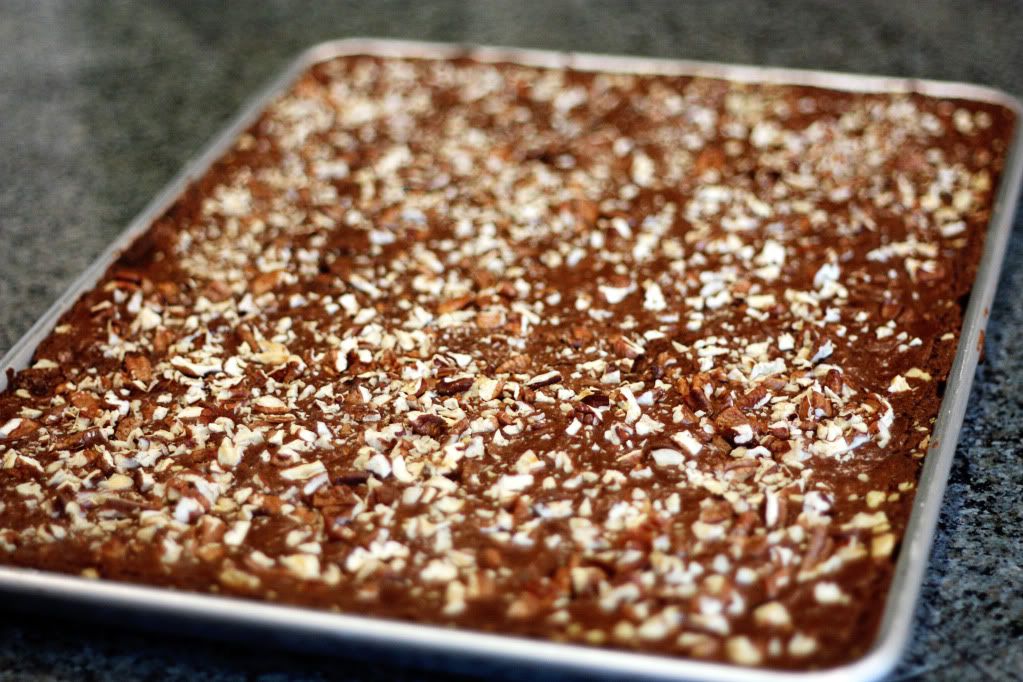 Bake the brownies at 350* for about 29 minutes. It will take quite a bit longer if you are making these thicker in a deep dish pan, like a 9×13. Just check them with a toothpick and they should be done when a toothpick comes out with a few sticky crumbs.
Now, wait until they're cool enough to cut! Then get a tall cold glass of milk and sit down and prepare to be in heaven.
Sweet Symphony Brownies
2 large boxes Betty Crocker Fudge Brownie Mix (family size)
4 large eggs
1/2 cup water
1 cup vegetable oil
4 (7-ounce) Hershey's Symphony milk chocolate candy bars with almonds and toffee bits

Preheat oven to 350 degrees.

Lightly grease jellyroll baking sheeet; set aside.

In a large mixing bowl, prepare brownie mixes according to package directions, using 4 eggs, 1/2 cup water and 1 cup oil. Stir until smooth. Spread half the batter evenly into prepared pan. Unwrap candy bars and place them on batter. Top with remaining brownie batter.
Bake 40 minutes or until a toothpick inserted near center comes out with a few moist crumbs clinging to it. Remove pan from oven and let cool on wire rack before cutting.