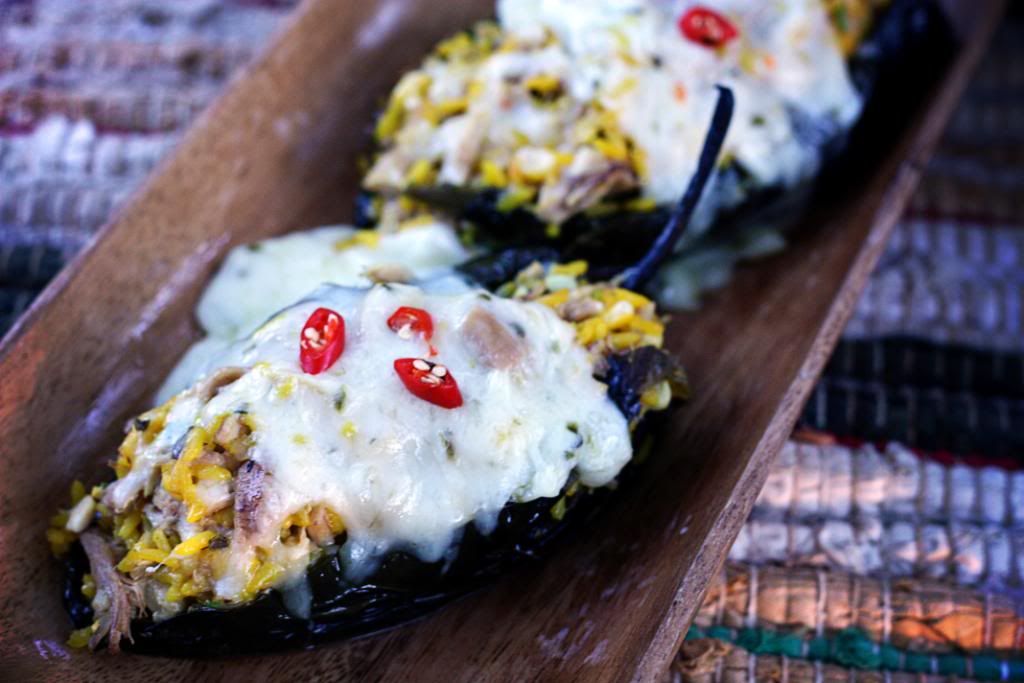 Ever since we went to Bakersville in Missouri and I bought those roasted poblano peppers, it has inspired me to make several dishes using roasted peppers. This is another one I made while I was there and again when we got home.
Stuffed Poblano Peppers
Serves 4
6 poblano peppers, roasted & peeled
1 pkg (8 oz) Goya Mexican Style Rice Mix
1 2/3 c chicken broth
1 T olive oil
1 c onion, diced
3 cloves garlic, minced
1 t salt
1/2 t pepper
2 boneless, skinless chicken breasts, cooked & diced
2 cups Pepper Jack cheese, grated
Roast poblano peppers and peel. Set aside 4 for stuffing; the remaining two, dice. Visit this post for how to roast peppers.
In a medium saucepan, heat oil over medium-high heat and saute onion until translucent. Add garlic and saute until fragrant. Immediately add chicken broth and chopped poblano peppers and bring to a boil. Add rice mix and cook according to package directions. Allow to cool for 20 minutes, if there is time.
Preheat oven to 400 degrees.
Stir in diced chicken and 1 cup of grated cheese. Taste and adjust salt and pepper to taste.
Take the reserved poblano peppers and make a long slit lengthwise down the middle of the pepper, making sure not to cut through the bottom. With a spoon, carefully remove seeds, if desired.
Generously stuff each pepper with rice filling and place into a greased baking dish.
Top peppers with remaining cheese and bake at 400 for about 15 minutes or until cheese is hot and bubbly and peppers are warmed through.
These are delicious served with Green Chile & Cheddar Corn Muffins and Charro Beans.