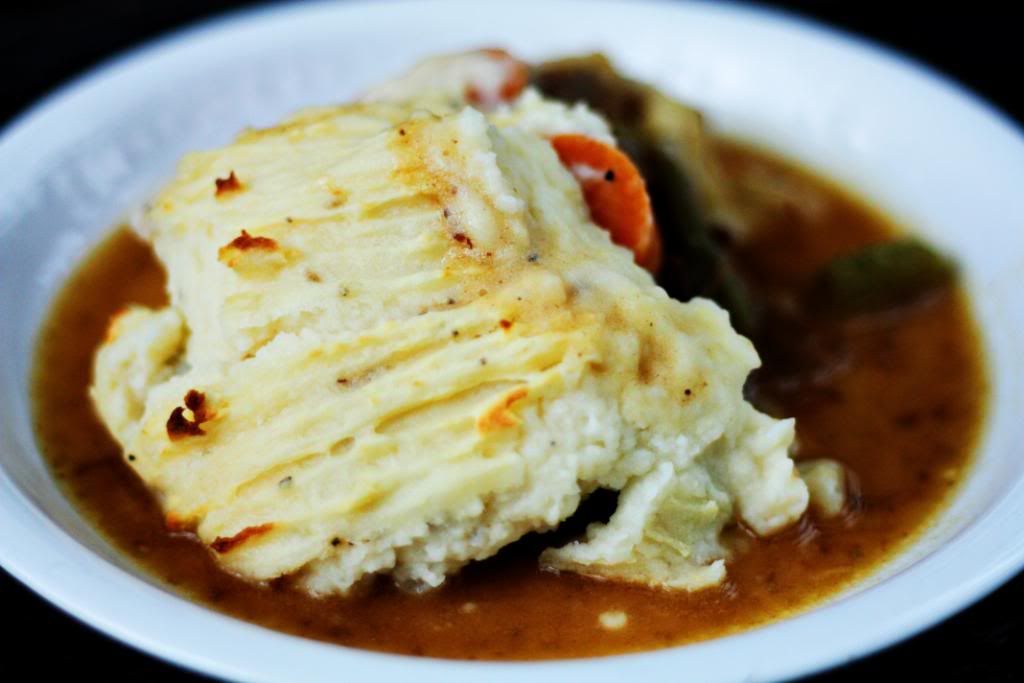 Have a lot of leftover pot roast? Try Shepherds Pie. I don't know about you, but I usually love to take a bite of roast and run it through my mashed potatoes and gravy…to me, it's the perfect bite!
This layered casserole is another one of those soul warming comfort foods for me. Even, if noone else in my family shares the same affection for it. In fact, when I announce that we're having it for dinner, I usually get an underwhelming response, along with heavy sighs and rolled eyes. So I usually have the quick witted comeback of "tough…I like it, so we're havin' it!"
Good one, huh?!
They love me.


Shepherds Pie

4 c leftover roast beef, diced
3 c leftover beef gravy
1 large onion, diced
1 clove garlic, minced
1 c leftover carrots, sliced
2 c leftover green beans or peas, drained
1/2 c red wine, optional
2 T Worcestershire sauce
4 c leftover mashed potatoes
2 egg yolks
1 t salt, to taste
1/2 t pepper, to taste
2 T olive oil
2 T butter, melted


Heat olive oi in a large skillet over medium heat; add onions and sauté onions until translucent; add garlic and continue cooking until fragrant. Stir in beef, gravy, wine and worcestershire sauce. Add vegetables and heat through;

season with salt and pepper, to taste.

Transfer meat mixture to a greased baking dish.

Beat the egg yolk into cooled or cold mashed potatoes and spoon over the meat mixture. Spread evenly and rake the tines of a fork over the top creating grooves. Melt 2 tablespoons of butter and drizzle over potato topping.

Bake at 400 degrees for about 30 minutes, or until mashed potatoes are browned and gravy is hot and bubbly.

Serves: 6

Note: You can use other leftover meats and gravies, like leftover roasted chicken or leftover turkey. This time of year, everyone is getting their fill of turkey dinners, so try this out for a great leftover night!