I love most all types of food, ranging from good ol' Southern classics to Tex Mex, Vietnamese, Indian, Thai, Irish, Italian, German, Czech…and the list goes on and on.
Lately, I've been on an Indian kick and have whipped up some traditional dishes that show up on most restaurant menus.  I have to admit, Indian food is definitely different and takes some getting used to.  Some folks just plain don't like it…like my husband…and that's OK.  I love it, I do the cooking, so I get to make it sometimes!
Pork Vindaloo is a traditional dish from Goa on India's western coast.  It's a spicy and tangy curry that is braised like a stew and the meat becomes very tender.  Potatoes are not the most authentic addition to this dish, but they are added sometimes and I like it.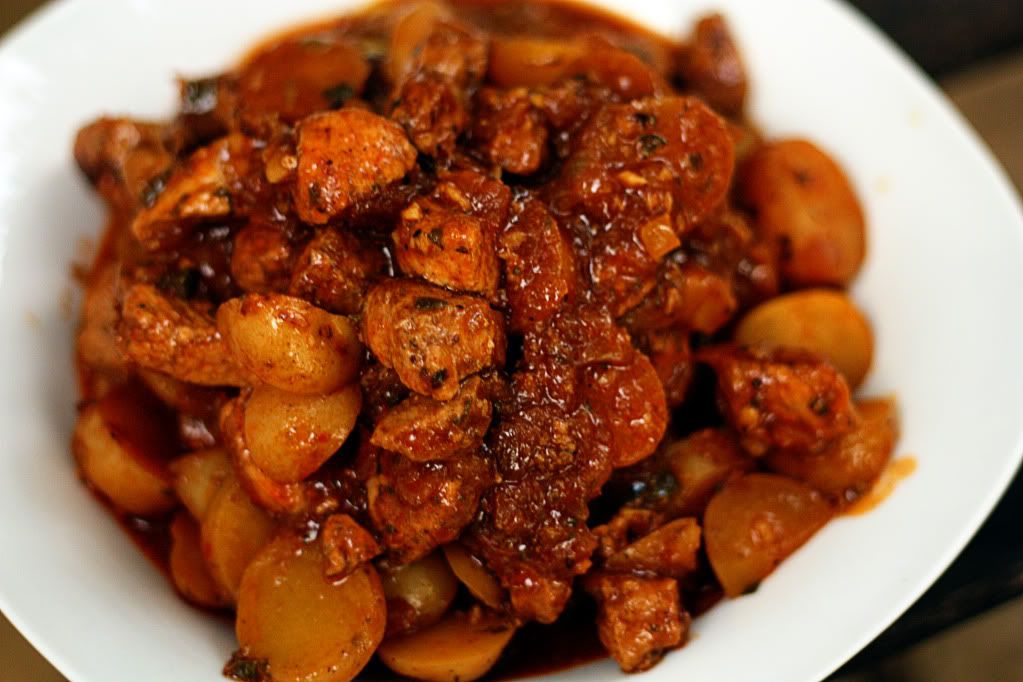 Print Recipe
Pork Vindaloo
Ingredients
Marinade:

1

Tablespoon

red pepper flakes

1

Tablespoon

fresh ginger

minced

1/3

cup

apple cider vinegar

10

cloves

garlic

minced

2

teaspoons

Garam Masala Spice Blend

see below

Main Ingredients:

2

Tablespoons

vegetable oil

¼

cup

cilantro

chopped

3

onions

diced

2

Tablespoons

reserved marinade

2

pounds

pork chops

cut into cubes

1

cup

chicken broth

1

teaspoon

brown sugar

12

baby potatoes

quartered or thick slices

1

cup

tomato sauce

S&P

to taste
Instructions
First, combine marinade ingredients in a medium bowl and whisk to combine. (this will be fairly thick) Place pork cubes in a large Ziploc bag and pour marinade over meat. Seal bag well and place on a plate or mixing bowl (in case of leakage) in the refrigerator for several hours or preferably overnight.

When ready to cook, heat oil over medium heat in a large, heavy-bottomed saucepan or iron skillet. Add onions and fry, stirring often, to a light golden brown color. Add the pork and continue sautéing, stirring often, until meat is browned.

Stir in 2 tablespoons reserved marinade, chicken broth, and tomato sauce. Bring to a boil, then reduce to a simmer and continue cooking for about 15 minutes, stirring occasionally.

After 15 minutes, stir in uncooked potatoes and continue simmering an additional 15 minutes or until the meat is cooked through. (You may cover the saucepan with a tight fitting lid and place in a 350 degree oven for about 30 to 45 minutes at this point, if you prefer.)

Season with salt and pepper, to taste and serve warm.
Quick Garam Masala Spice Blend:
1 tablespoon ground cumin
1 teaspoon ground coriander
1 teaspoon ground cardamom
1 1/2 teaspoons ground pepper
1 teaspoon ground cinnamon
1/2 teaspoon ground cloves
1/2 teaspoon ground nutmeg
Mix cumin, coriander, cardamom, pepper, cinnamon, cloves, and nutmeg in a bowl. Place mix in an airtight container, use as needed, and store in a cool, dry place.