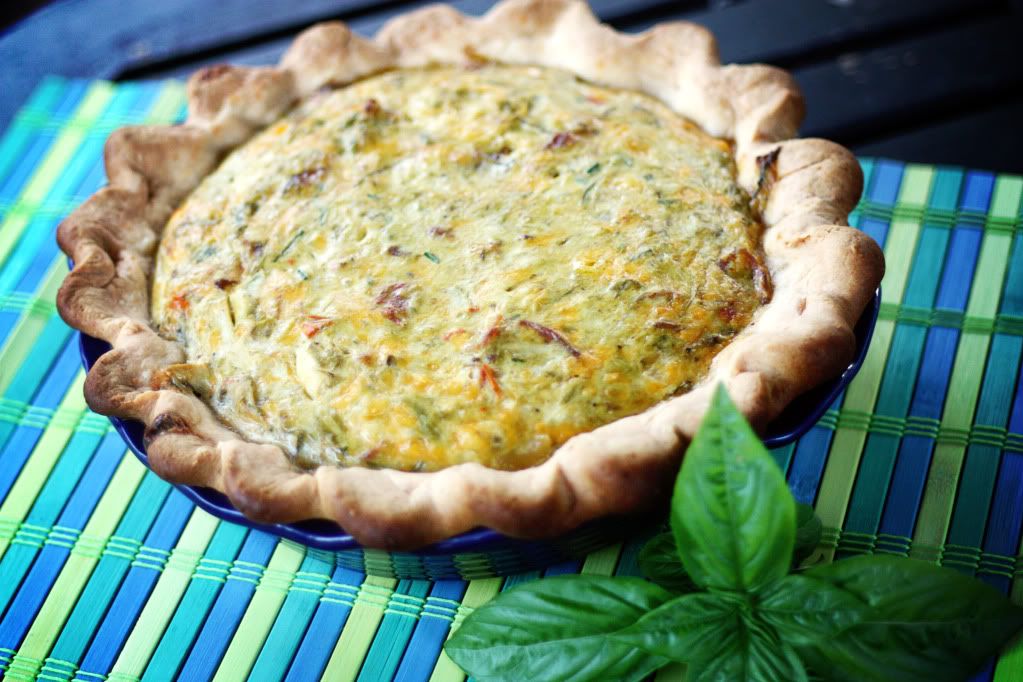 I just have to tell you about this quiche recipe I found…I shamelessly borrowed it from The Pioneer Woman! It was deeeelicious! It has a great combination of flavors and is a deep dish quiche, which makes it very hearty and filling! It's packed full of sauteed onions, mushrooms, artichokes, Swiss cheese and bacon
Pioneer Woman's Quiche
¾ pounds Thick Cut, Peppered Bacon
1 stick Butter
1 whole Large (or 2 Medium) Onions, Very Thinly Sliced
2 boxes (5 Oz. Each) White Mushrooms, Washed And Sliced
1 can (14 Oz.) Quartered Artichoke Hearts
1 whole Pie Crust, Or Half A Recipe Of "Sylvia's Perfect Pie Crust"
7 whole Eggs
1-½ cup Heavy Cream
2 cups Grated Swiss Cheese
Salt And Pepper, to taste
Optional: Fresh Parsley, Fresh Chives

Preheat oven to 400 degrees.

In a skillet, fry bacon until crisp. Crumble and set aside. Pour out excess grease but don't clean the pan.

Melt butter in the same skillet. Add onions and cook for a few minutes. Add mushrooms and artichokes and cook for a few more minutes. Salt mixture to taste. Remove from heat and allow to cool for about 20 minutes.

Roll out pie crust and press into deep dish tart pan. (May also use 2 standard pie crusts for this recipe.) In a large bowl, beat eggs with cream. Add grated cheese, salt and pepper, and set aside. (Add cayenne pepper if you'd like a little kick.)

With a slotted spoon, add mushroom mixture into egg/cream mixture. Stir together. Add bacon and stir. Add parsley or chives, if desired.

Pour into pie crust and press to submerge ingredients. Cover loosely with foil, place on a baking sheet, and bake at 400 degrees for 1 hour. Bake for slightly longer if quiche is overly jiggly.

Remove from oven and allow to set for ten minutes before serving. Remove quiche from pan and slice into wedges.
.